We pride ourselves on our sleek modern look and passion for what we do. Our aim is to make sure that you get the right look for your event.
We love our little entertainment Company with a passion. We provide bespoke entertainment for your wedding day. Booking the DJ for your wedding can be a bit of a challenge. Let us take all the hassle out of a really important aspect of your big day. We believe our flexibility and talent for creating memorable nights are what we're loved for. There are no musical tastes we cannot cater for. Vibe pride ourselves on being different to the usual cheesy style of wedding DJ's.
We provide music that fits the tastes of you and your guests. Having fun with you and your guests is an essential part of your night. Vibe add all the personal touches to your wedding and we are in contact with you as much or as little as you need. We are always on hand to add advice and help with lighting, bespoke graphics and of course music. Getting to know your music tastes is so important as well as finding out what you don't like !
Why not also choose from our popular services below
VIDEO DJ
We provide this on top of our DJ service.
A magical look
We take your pictures from family and friends cameras of your wedding and display them on big HD TV's for all your guests to see.
THE PHOTO STUDIO
Take big group photos in our Photo Studio
FREE with our Video DJ service
We have an amazing Photo studio that comes FREE with our Video DJ* option. We bring all the props, the fun and excitement. That means your guests can have some nice family pictures or some fun pictures with the wedding party.
DANCE FLOOR
Take big group photos in our Photo Booth
LED lights dance floor
Hiring a dance floor is becoming more and more popular as many people want something fresh, modern and a bit different to make
their event stand out.
CONFETTI CANNONS
Give your guests an experience they'll never forget
An explosion of colour
Create a spectacular explosion of colour at your Wedding with a confetti cannon and give your guests an experience they'll never forget, during the first dance or later in the evening as a finale this effect is truly breathtaking.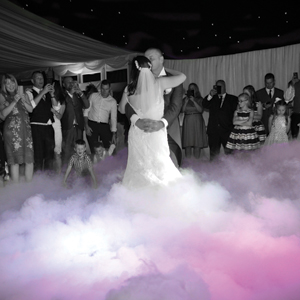 DANCING ON CLOUDS
This is a must have for your first dance
A magical effect
Make your wedding truly magical! Something your guests won't stop talking about, with our dancing in the clouds service, giving that fairy tale setting as you have your very special first dance.
LOVE LETTERS
Add that finishing touch to your wedding
These Love Letters are 4ft high
They provide the most amazing visual prop for your wedding. Vibe Love Letters are different from all the ones you have seen. They use LEDs, which mean they are cool to touch. Vibe Love Letters are 4ft high and can change colour.